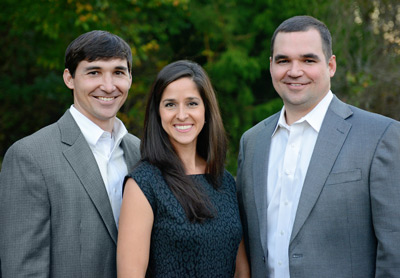 Brad Newberry began his real estate career in 2004. He built his business based on hard work and a heart for service. His clients have rewarded that hard work and service through referrals and repeat business. As a result, Brad has become one of the premier agents in the Tyler area. He has been recognized as a top agent by Locals Love Us each year since the inaugural award in 2011.
As Brad's career flourished, his wife, Kate, also obtained her real estate license. Her passion is finding homes in need of help and then transforming and selling them. She has a keen eye for seeing the potential in homes and has helped clients over the years to make sound decisions about the scope and design of remodeling their current and future homes.
Brad's brother, Andy Newberry, joined Brad in early 2015. Andy, a CPA, began his career in real estate after 18-years in accounting/finance in both public accounting and at Brookshire Grocery Company. His education and varied business experience has prepared him to give clients expert financial advice in evaluating decisions in the buying and selling process.
In the summer of 2018, Brad and Andy started Newberry Real Estate. At Newberry Real Estate, we are committed to serving you in a way that makes your needs a priority and markets your property in a professional manner. We find joy in serving you and believe it is an extension of our faith and service to Jesus Christ. The way in which we are determined to do business is based on a core set of principles that we have outlined below.
John 3:30 says, "He must increase, but I must decrease." This verse is simple, easy to remember and embodies what we hope to achieve in glorifying Him in our business.

Servant leadership – Our real estate expertise will help us lead you through the process. Our commitment is to serve your needs, not ours.

Honesty and integrity – We will serve you with utmost integrity and provide you with a high-quality experience. Our job is not to convince you to purchase or sell a property. Our role is to listen, evaluate, and give advice based on the individual circumstance. We have found this approach consistently results in a satisfied buyer or seller.

Listening – Every situation is different for each of our clients. We are committed to listening and understanding your needs so we can serve you effectively, efficiently and to your satisfaction.

Patience – Buying a home or other property is a big decision and it takes time to find exactly what meets your needs and desires. We commit to patiently walk through the process with you to find the property that best fits you.

Limit surprises and solve problems – We will communicate what to expect throughout the buying and selling process. The experience we have gained from buying and selling hundreds of properties allows us to identify potential problems early and work to alleviate them quickly. Our calm demeanor helps us evaluate issues, work toward solutions and walk with you through what can, at times, be a stressful and emotional process.
We are so thankful for the knowledgeable and dedicated staff that helps us make the buying and selling process a smooth one for you. Our business is built on relationships and following through with what we promise in terms of service. We look forward to partnering with you in the future!